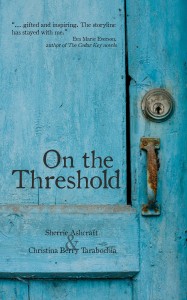 On the Threshold (Ashberry Lane, 2013)
WINNER of the 2014 Oregon Christian Writer's Cascade Award for Contemporary Novel!
Suzanne – a mother with a long-held secret.
Tony – a police officer with something to prove.
Beth – a daughter with a storybook future.
When all they love is lost, what's worth living for?
Suzanne Corbin and her daughter, Beth Harris, live a seemingly easy life. Suzanne has distanced herself from her past, replacing pain with fulfillment as a wife and mother, while Beth savors her husband's love and anticipates the birth of their child. But all that is about to change. Like a sandcastle buffeted by ocean waves, Suzanne's façade crumbles when her perfect life is swept away. Tragedy strikes and police officer Tony Barnett intersects with the lives of both women as he tries to discover the truth.
Left adrift and drowning in guilt long ignored, Suzanne spirals downward into paralyzing depression. Beth, dealing with her own grief, must face the challenge of forgiveness. Can these two women learn to trust each other again? Will they find the power of God's grace in their lives?
Amazon
Barnes & Noble
iTunes
Smashwords
What People Are Saying about On the Threshold

"… gifted and inspiring. The storyline has stayed with me."
~Eva Marie Everson, best-selling author of The Cedar Key novels & Unconditional; The Novel
"… real women who write stories about real life."
~Bonnie Leon, author of The Alaskan Skies Series
"With a writing style that flows gently between generations, this mother-daughter team has tackled a tough subject of grief at many layers."
~Jane Kirkpatrick, award-winning author of One Glorious Ambition
The Familiar Stranger (Moody Publishers, 2009)
Craig Littleton's decision to end his marriage would shock his wife, Denise … if she knew what he was up to. When an accident lands Craig in the ICU, with fuzzy memories of his own life and plans, Denise rushes to his side, ready to care for him.
They embark on a quest to help Craig remember who he is and, in the process, discover dark secrets. What will she do when she realizes he's not the man she thought he was? Is this trauma a blessing in disguise, a chance for a fresh start? Or will his secrets destroy the life they built together?
Buy it now from ChristianBook or Amazon, or ask your local bookstore to order it.
If you would like a signed copy, send $14.50 to PO Box 665, Gaston, OR 97119. It's that easy!

2010 Carol Winner for Long Contemporary
2010 Christy Award Finalist
2nd Place Winner of the 2008 ACFW Genesis (Contemporary Category)
What People Are Saying about The Familiar Stranger
The Familiar Stranger is a great ride. From the opening page to the very last I had to know more. Christina Berry's original voice and her ability to raise uncertainty drive the reader forward to a surprising ending. A wonderful first book!
~Bonnie Leon, author of the Sydney Cove series
Christina Berry is a woman who really understands how men think. The Familiar Stranger had me from the very first sentence, and it kept me flipping pages right through to the end. It's a terrific debut novel and I'll be watching eagerly for her next one.
~Randy Ingermanson, Christy award-winning author of Oxygen
The Familiar Stranger crackles with energy and intrigue. The characters gripped me; the situation haunted me. I didn't want to put it down.
~Jill Elizabeth Nelson, author of the To Catch a Thief series
Christina Berry writes with language that stimulates the senses while challenging our thoughts. She ties mystery with inspiration giving us good stories well told.
~Jane Kirkpatrick, author of All Together in One Place, A Clearing in the Wild, and A Name of Her Own
Christina Berry's stories are wonderfully told, rich in detail, exact in dialogue, and exciting from the moment you begin reading!
~Eva Marie Everson, author of The Potluck Club series
As readers discover Christina's writing and realize how friendly and approachable she is, they won't be disappointed.
~Donna Fleisher, author of the Homeland Heroes series
A real page-turner with several unexpected twists and turns. A great debut novel by Christina Berry! I look forward to more from her!
~Author Deborah Raney, 4 1/2 stars on cbd.com