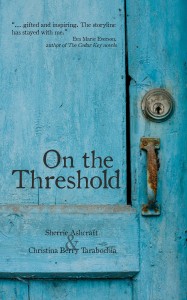 May 2013 (Issue #14)
Time for the age-old question: What should you get your mother for Mother's Day?
It doesn't matter if you like her or not, we have the perfect answer for you—
On the Threshold, which released YESTERDAY, May 1st!

Yes, it's been fourteen years since we came up with the idea of writing together, and now we are pleased to be able to offer the book to you finally. It is already available on the Kindle for only $4.99. It should release on the Nook, Sony Reader, and in every other e-format within days. You can find the appropriate files here at Smashwords if you'd rather not wait.
This contemporary Christian novel about a mother and daughter, written by a mother and daughter, is the perfect gift for Mother's Day! If your mom doesn't use an e-reader, wait just a few more days and you can buy it through every major retailer in print form or download 
Kindle for PC
 and you can read any Kindle book on your computer. Which we know you have, as we sent you this! Let us know if you'd like us to mail a signed copy directly to her.
So what's the book about?
Suzanne Corbin and her daughter, Beth Harris, live a seemingly easy life. Suzanne has distanced herself from her past, replacing pain with fulfillment as a wife and mother, while Beth savors her husband's love and anticipates the birth of their child. But all that is about to change.
Like a sandcastle buffeted by ocean waves, Suzanne's façade crumbles when her perfect life is swept away. Tragedy strikes, and police officer Tony Barnett intersects with the lives of both women as he tries to discover the truth. Left adrift and drowning in guilt long ignored, Suzanne spirals downward into paralyzing depression. Beth, dealing with her own grief, must face the challenge of forgiveness. Can these two women learn to trust each other again? Will they find the power of God's grace in their lives?
Suzanne ~ a mother with a long-held secret
Tony ~ a police officer with something to prove
Beth ~ a daughter with a storybook future
When all you love is lost, what's worth living for?
Okay, this is where we need help from all of you. Some of you have been reading this newsletter from its very first edition back in November of 2006. Others have recently signed up for it. Wherever you fall on the continuum, you're important to us.
Important enough to win a Kindle* loaded with our book, On the Threshold, and Christina's award-winning The Familiar Stranger!
If you help get the word out, you can earn different points for each thing** you do, and every point represents an entry in the contest.
Say, for example, you name your next child "Threshold" in honor of our book. You would earn 100 points (entries), which would greatly increase your likelihood of winning.Fine print to be read as quickly as those medical side effects are glossed over on TV: A certified copy of the birth certificate must be sent to Ashberry Lane proving the child was born between now and when the contest ends on June 3rd at 10 PM, PDT. Some restrictions apply, such as you must also promise not to change the child's name to anything else for at least the next fifteen years. You are, however, allowed to use "Thresh" as his or her first name, and "Hold" as the middle.
If that seems like we're asking a little too much, there are other ways for you to enter the contest.
~ Forward this Infrequent, Humorous Newsletter, you get ONE point per recipient.
~ Post about On the Threshold on Twitter or LinkedIn, or share the cover on Instagram or Pinterest, and you've doubled your points to TWO.
~ Refer someone to sign up for the newsletter. If he or she notes you as referrer, guess what? You just earned THREE points.
~ Blog about it and reap FOUR points. (We're also available for blog interviews.)
~ And for those who buy the book (e-book or print copy), you will gain FIVE points.
~ Leave a review—positive or negative—on a retailing site after reading the book, and TEN points to you!
All you have to do to enter is drop us an email at 
Christina@ashberrylane.net
 with a description of what you did. We trust you.Here is a sample email:Dear Sherrie and Christina,
Fortunately, my last name is Hold, so when my triplets were born yesterday, all I had to do was name them "On," "The," and "Threshold." I also got the cover of On the Thresholdtattooed on my arm, took a picture of it, and posted it on every possible social media site, including Facebook, though I understand I don't get points for anything done on there. Next, I forwarded the Infrequent, Humorous Newsletter to a few of my friends and ALL of my enemies. After reading the book in two hours, I posted an honest review on three different retail sites. Please enter my name 349 times.
Love,
Your #1 Fan
On Saturday, June 3rd, Sherrie's birthday, a random-number generator will determine our winner. We have a pet hamster training like crazy to be able to turn his exercise wheel to make sure the numbers are well mixed. (Don't worry, we're avoiding getting in trouble with PETA by having a gerbil spell him off. No animals will be harmed in the selection of the winner.)
We hope you get half as much enjoyment reading 
On the Threshold
 as we did writing and editing and editing and editing it. Peace, out!If you were forwarded the email and you actually are still reading all the way to this spot, please sign up for the 
newsletter
 yourself.
*The type of Kindle depends on the number of entrants. The minimum prize is a normal Kindle; the maximum prize is a Kindle Fire HD.
**Any actions taken on Facebook such as sharing the cover or posting the link to the book, while highly encouraged, are not allowable as entries into any contest according to Facebook's rules and regulations.